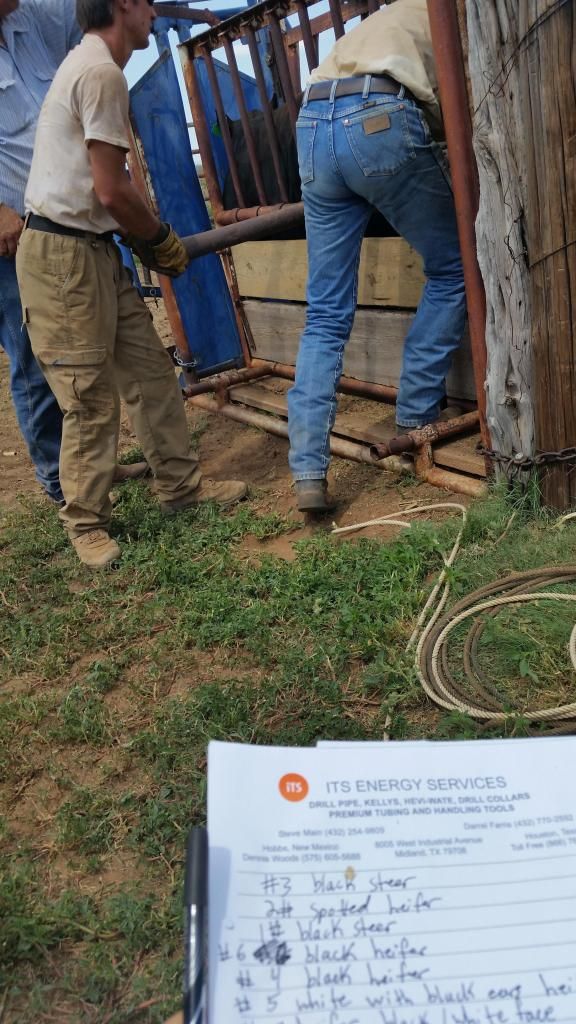 The guys started early that morning over at our other place that we lease, gathering cattle, sorting out the calves and trucking them back here to the ranch and putting them in the lot.
Mom and I got up early and started preparing food for all the hungry men that we had to feed at lunch. I made a fresh apple cobbler for dessert, then we cooked steaks, fried potatoes, corn, bread, gravy, and I can't even remember what else! All I know was my feet were killing me and I was exhausted! After lunch was cleaned up, I headed outside to see if I could be of any assistance to the guys. Sure enough, they had just started working the calves (i.e. branding them, ear tagging, shots, cutting, etc...) and needed someone (me) to keep track of the ear tag numbers and write a short description of each calf. So, we all worked in the scorching heat from about 12:00 to 5:00 that evening. It was a long exhausting day, but praise the Lord we got them all worked and nobody got hurt! And that evening we got some lovely rain. It interfered with our branding for a little bit, but it soon past over and we're able to finish up. I'm not trying to say rain is unwelcome or anything, we LOVE rain!
So minus a few sunburns and cuts, everyone came out unscathed!
Mom was wonderful, she continually brought us cool liquid to drink. There is no telling how many gallons of water we guzzled down, along with lemonade, and energy drinks!
Later that evening Mom and I were out doing chores and taking our evening walk and we saw this horrid sight on the barn....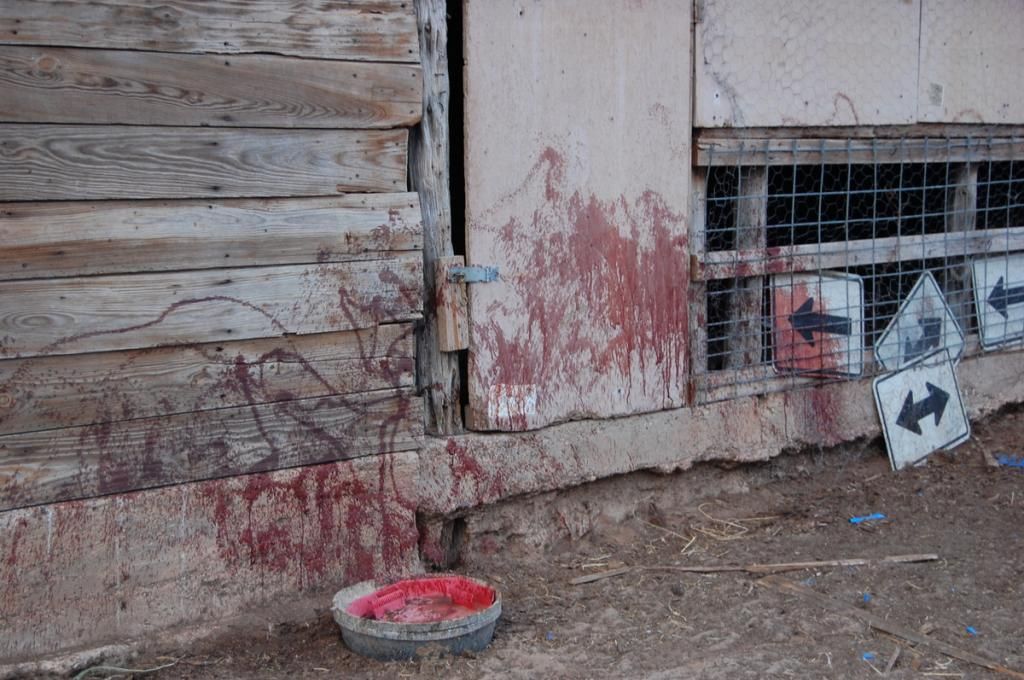 I promise we didn't commit a murder.
Some of the calves had some horns that needed to be cut off, so after we turned them out of the chute, they ran over by the barn and bled on it. Lovely, I know. I knew my readers would appreciate it. ;)
Have you ever worked cattle before? Did you pick the hottest day possible to do it? We certainly did!